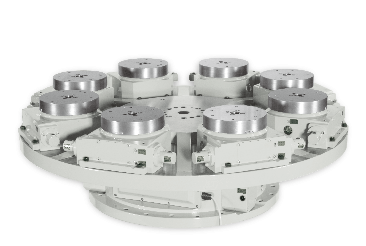 Application Examples
A CNC transfer machine of today is likely to be a flexible CNC machine. It is especially suitable where different types of work pieces must be produced in quantities. The machine is especially useful for industries such as automotive, watches, livelihood necessities, and climate control systems. CT series indexing tables are widely used in transfer machines either as horizontal or vertical axis. Fast rotation time and high indexing accuracy ensures outstanding productivity be produced in medium to high quantities. Change livelihood to everyday necessities.

Function Principles of Non-Lifting Indexing Tables

There are 3 gear rings to each Hirth Coupling
Gear ring A is attached to the rotating table top plate
Gear ring B is the "datum" attached to the table housing
Gear ring C raises and lowers inside the table housing to connect gear ring A and gear ring B together
after each cycle.
Please refer to drawing 2

Gear ring C is shown lowered to release the locked assembly

Gear ring A is now free to rotate with the table top

After the rotation is complete, Gear A is now in the new location

Gear ring C then raises to create a re-locked assembly as illustrated in drawing 1

Note: The raising and lowering of the gear rings is similar to a lapping effect.The accuracy of the gear teeth improves over time.