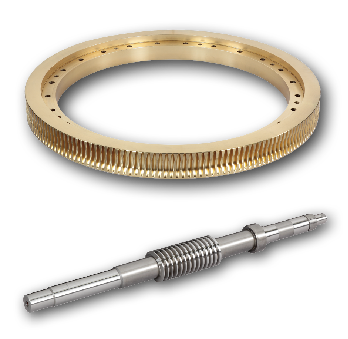 ●Materials
Worm gear: Special high-tensile aluminum-brass equal in strength to a steel alloy.
Worm shaft: Hardened alloy steel

●High Rotation Torque
The combination of brass and alloy steel offers
less friction. Motor torque is transferred
efficiently. High class material worm system
guarantees high torque transmission.

●Large Worm Gear
The worm gear with a large pitch diameter
creates a large engagement area and less pressure on the contact surface, resulting in resistance against wear.

Rugged, 360° Surround Clamping
Our massive, 360° low volume, high speed Hydraulic Clamping System is immediately behind the table to ensure maximum
rigidity during machining operations.
A solid and sealed clamping structure maintains maximum holding power while keeping contaminates out.
Only a small amount of hydraulic fluid is required to achieve an optimum clamping force, the source of which can be from a mini hydraulic pump unit or an air-over-oil intensifier; both are options.